Top European Stag Party Destinations for 2016
If you need a great place to host your stag weekend, then there are many places to consider in Europe for such a fun-filled weekend. Prague, Budapest, London, Paris, Hamburg and many other European cites have a wealth of options for stag weekends. These cities offer you a range of activities and services and there is no shortage of amazing fun to be had- and all at surprisingly affordable prices. From five-star bars, hopping nightclubs, and sexy girls, you can find anything and everything you could want or need to make a stag weekend that you will always remember. Here are a few places to consider for your European stag weekend celebration:
Private River Cruise
Prague is known for its great cruises and taking a private boat, complete with a bar and a private cabin area can take your stag weekend plans up a notch! Watch the landscape of Prague drift by as you sip delicious drinks and enjoy the company of your closest friends. Prague is a popular stag party destination you don't want to miss out on!
Szechenyi Baths and Pool
The outdoor pools and elegant baths of this Budapest hot-spot is perfect for a stag weekend and can be enjoyed any time of the year. It's the perfect way to enjoy a stag weekend in Budapest and have fun with the guys before your big day. These pools offer the opportunity to relax, have fun, and even flirt with the girls who always seem to be enjoying the sun at poolside.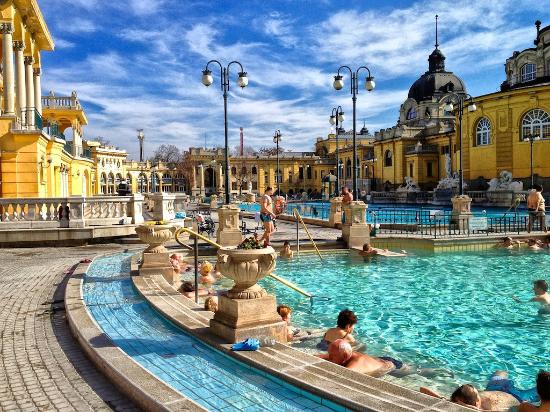 Bar Kick
In London, this gaming hotspot is a perfect addition to your European stag weekend. Table Football and other popular bar sports are available as well as plenty of delicious bar food and drink. It is easy to enjoy the night with some sporting excitement that gets the testosterone flowing.
Food and Wine
Paris is known for its food and wine, so what better way to enjoy a stag weekend in Paris than by indulging in delicious food and drink? There are many options available whether it is wine tasking, food and drink sampling, or dinner theaters that make wonderful stag weekend choices.
VIP Nightclub
Hamburg has become a popular place for European stag weekend plans, especially for those who enjoy the night life and seek the noise and lights and vibes of the club scene. Party the night away and enjoy the last weekend as a bachelor with your closest friends and allow yourself to truly let lose and have fun in Germany.
Whatever plans you set for your special weekend, you will have the time of your life when you find the perfect activities for your stag weekend getaway. Stag weekends are to be enjoyed and remembered, so let your imagination run wild and do things you would never do before and make those memories that will last a life time.